Bletchley Indoor Bowls Club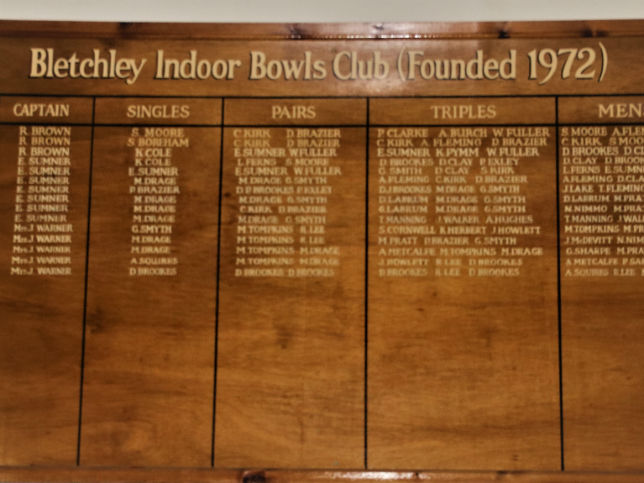 The History of Bletchley Indoor Bowls Club
The original Bletchley Indoor Bowls club was " formed at a Public Meeting in the College of Education Hall, Bletchley Park on 18th September 1972. "
At a Committee Meeting on 29th November 1972 " It was agreed that a proposal should be made at the first AGM that lady members should form their own Section "
The first AGM took place on 14th December 1972, a Ladies Chairman and Ladies Secretary were appointed and it was minuted that " The ladies will now call their own AGM to elect their remaining officers and Committee. "
It is also minuted " that the opening date for the Bletchley Leisuredrome was to be Saturday, 17th February 1973 " ...
The merger of the Bletchley Indoor Bowls club and the Bletchley Ladies Indoor Bowls Club took place on 5th September 2005.
Although there is no reference in the early minutes of the Club as to why the length of the bowls green in the old Leisuredrome was only 33 metres (or was it 33 yards?), it is understood that the Architect of the building asked what was the size of a bowls green and was told 40 yards square. And this is the size that he built the brick constructed room for the Bowls Hall. Hence the size of the green was compromised. It is also understood that special dispensation was given by English Indoor Bowling Association for National Competitions to be allowed to be played on the green. But we have no record of these statements.
When the new Leisure Centre was built, this was put right and the length of the rinks are now the Sport England recommended length of 36.5 metres.
The new Leisure Centre was built in 2009, and opened its doors on the 4th January 2010.
Bletchley Indoor Bowls Club is now situated on the top floor of the centre with 7 rinks, Ladies and Gents changing rooms and new kitchen facilities.
Social, News & Weather
BIBC